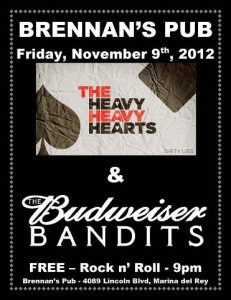 So there's this new blues/rock act call the Heavy Heavy Hearts that will almost certainly blow you away as sure as you stand. Don't miss them because they won't be standing still for long.
You can download their 5 song E.P. right now at pay-your-own-price or stream it for free.
And, check out an interview with the band by ShockboxTV
If you haven't heard of the Budweiser Bandits before it's because they're a super secret band playing under a fake name. You'll have to come down to Brennan's Pub to find out who they are (or you can just email me). Leave your guesses in the comments.
Related show