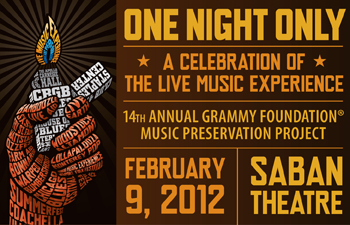 A night dedicated to the history of live music, co-hosted by Sharon Osbourne and featuring GRAMMY® Winners (and guitar legend) Robert Cray, Jonny Lang and Mavis Staples; also appearing current GRAMMY nominees Dave Koz and Ledisi; and the Colburn Orchestra, A Fine Frenzy, Tyrese and more to be announced shortly!
What is it?
"One Night Only: A Celebration Of The Live Music Experience" — this year's GRAMMY Foundation Music Preservation Project —will explore the history and evolution of live concert performances and celebrate the various and invaluable contributions of those events, the key players behind them, and their influence on the American cultural landscape."
What is the GRAMMY Foundation?
Protecting our cultural legacy for future generations is a cornerstone of the GRAMMY Foundation mission. The Foundation recognizes and celebrates the innovation, perseverance and genius evidenced in the stories and music of the pioneers who have woven a rich and colorful cultural fabric. The GRAMMY Foundation Music Preservation Project highlights its year-round activities in support of that mission, from preservation grants to its Living Histories archive."
Thursday, February 9, 2011. Show starts at 7:30.
For tickets go to: http://fla.vor.us/grammyfoundationonenightonly
Now get yourself some culture and support a great cause.
Related show