[UPDATE]
Congrats to Super Duper for winning the whole enchilada. A wrap-up post is forthcoming.
[UPDATE 9/15/2011] Congrats to the first two winners of their respective rounds.
Sept. 8 – Bazerk
Sept. 14 – Xyzyx
Photos will be up soon.
[UPDATE 8/31/2011] All slots are now full. The first preliminary round has been moved back to Thursday, September 8th. The full schedule is below.
PRELIM – WEDNESDAYS 
September 14, 2011
September 21, 2011
September 28, 2011
PRELIM – THURSDAYS
September 8, 2011
September 15, 2011
September 22, 2011
September 29, 2011
---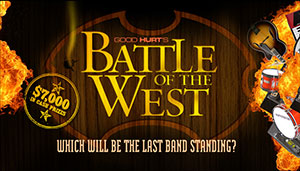 Get your earplugs ready kiddies, our fave venue, the Good Hurt is hosting a battle of the bands that's sure to bring even the most jaded bands out retirement for a try at a comeback.
You think your band has what it takes to win? A respectable $1000 goes to the winners of 2 semi-final rounds and another 5000 clams (plus other goodies) goes to the overall winner.
Sign-ups are open now for the 10 preliminary rounds—5 bands every Wednesday and Thursday night starting on August 31.
The winner of each prelim goes to the semi-final round on Wednesday, Oct 19 or Thursday, October 20. The winner of each night goes on to the final on November 10.
Go to the Good Hurt's website for all the gory details and to sign your band.
Related show