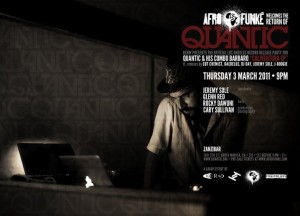 This week marks the return of QUANTIC
celebrating the release of his
"CALIVENTURA REMIXES EP!"

Pre-Sale tickets are now available.
Early arrival is suggested.
http://www.templebarconcepts.tickets.musictoday.com/TempleBarConcepts/calendar.aspx

DO NOT MISS THIS VERY SPECIAL EVENT!!

————–:~0~:—————-
AFRO FUNKÉ : Weekly Soul Invocation.
————–:~0~:—————-
Afrobeat, Brazilian, Dub, Reggae, Cumbia,
Samba Disco, Batucada, Afro-Latin House,
Indian Beats, Makossa & other deep-rooted
Soul music from around the world.
————–:~0~:—————-

Thursday, March 3, 2011

AFRO FUNKE' & KCRW 89.9FM PRESENT

QUANTIC (Tru Thoughts – Colombia)

celebrating the release of:
"CALIVENTURA REMIXES EP'"

The "Caliventura Remix EP," out on March 15th , sees US based producers Cut Chemist, J Boogie, Jeremy Sole, Daedelus and DJ Day giving the remix treatment to a handful of tracks from Quantic and His Combo Bárbaro's immensely acclaimed 'Tradition In Transition' album. The EP also features an alternative, previously unreleased version of the album track, "Albela." This essential EP comes in a full color picture sleeve featuring a photograph taken in Colombia by the celebrated LA-based photographer B+ (Mochilla), who has become a key contributor to the Quantic aesthetic in recent years, and whose critically acclaimed body of work includes the famous shot for DJ Shadow's 'Endtroducing.' Inside the beautiful sleeve, you'll also find an exclusive download card with all five vinyl tracks available on mp3, plus five bonus goodies.

Quantic is an umbrella name for UK-born, Will Holland: acclaimed Producer, Musician, DJ for over 15 years, evolving and involving various styles like Funk & Jazz to Electronic & Folk music through to Latin, Reggae, Dub & Cumbia. Holland has released over ten full-length albums internationally through the label, Tru Thoughts, across six different projects ranging from his DJ/Producer/Remixer moniker that has packed dance floors from Bulgaria to Buenos Aires, Quantic, to Latin-tinged, reggae and dub exploration, Flowering Inferno, to a full-out soul band, The Quantic Soul Orchestra.

Based in the musical epicenter of Cali, Colombia since 2007, Holland has been exploring cumbias, salsa and Afro-Colombian music through his particular beat-focused, electronic and funk lens. His latest live band project, Quantic y Su Combo Bárbaro, a carefully assembled international cast of musical creators including virtuosic salsa pianist Alfredo Linares and Pacific folklore singer Nidia Gongora, is a bold snapshot of an ever-evolving musical landscape in the Americas. Holland also works and exchanges with a cross-section of artists and producers innovatively shaping contemporary music from Latin America as we speak.
'One of the songs to be remixed on this EP is 'Un Canto A Mi Tierra' featuring a stunning vocal turn from Colombian folklore singer Nidia Góngora – the original version, released as a single and video last year, has had over 150,000 YouTube hits and continues to be adored around the world as one of the most popular cuts from the album. The reworks from J-Boogie and Cut Chemist will doubtless bring even more new fans to the track. You'll also find the Daedelus and Computer Jay remix of the glorious instrumental track, "Undelivered Letter," which flips this tune on its head – from classically beautiful, sweeping soundscape to up- to-the-minute glitch fest – in a bold and successful piece of genre- hopping.
[Facebook]
Related show